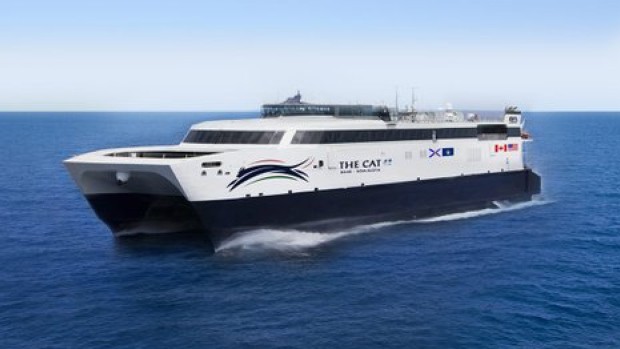 "Let me be clear," Stephen McNeil said clearly last August even after Nova Star's cash-sucking Yarmouth-Portland ferry had taken on sinking-level financial water. "As premier I'm committed to that link to the New England States… to a ferry service from Yarmouth."
Our question today.
As Nova Star's replacement — Bay Ferries high-speed Cat — sails through the same passenger-challenged, money-losing storm en route to the same subsidized disaster, should the premier still be unconditionally committed to it?
Geoff MacLellan, McNeil's minister of transportation, last week insisted — Pollyanna-like — Bay Ferries' situation is improving.
Perhaps.
During the first week of August — midway through its short season — the Cat carried an average of 488 passengers a day. That's considerably more than its first week average of 181. If only there were eight days in a week, the ferry would have actually met its own low-ball weekly targets for the first time this season.
Alas, the best-faint-hope scenario now is the ferry will carry 40,000 of the 60,000 passengers it had originally conservatively projected. To put it in perspective, that's 10,000 fewer passengers than the previous, fired operator carried last year.
And that was fewer than half the 130-135,000 passengers a 2012 experts panel agreed would be necessary for the service to be "commercially viable."
Which leaves us… holding the open purse.
In March, a let-me-be-clear, desperate-for-any-service McNeil government signed an open-ended 10-year deal with Bay Ferries that not only includes $33 million in start-up expenses and subsidies this year and next, plus still-undisclosed management fees, but also commits us to cover the company's no-cap cash losses going forward.
Although it's fair to make the point the company got a late marketing start this season, it is perhaps even more telling the service is faring so badly during a summer when both the Canadian dollar and gas prices are low.
The flip for taxpayers, of course, is we're on the hook for even more subsidies because we'll be paying — one assumes — in U.S. dollars to lease the American-owned vessel ($4.5 million per year) and pay its American crew.
How much has the sleepover ferry really benefited its home port of Yarmouth? Southwestern Nova Scotia?
Does it come close to what we're spending?
It's time for the premier to be clear. Or at least more considered.
Click here for reuse options!


Copyright 2016 Stephen Kimber, Website