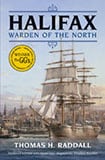 Thomas Raddall – Updated Edition with New Chapters by Stephen Kimber
First published in 1948, Halifax: Warden of the North has remained the best-known and most influential chronicle of Halifax's birth and evolution since it first hit the shelves. In this updated version of the Governor General's Award–winning history of Halifax, celebrated journalist Stephen Kimber picks up where Thomas Raddall left off, adding three new chapters that cover the city's history from the mid-1960s to the present day, from the scrapping of plans for the Harbour Drive Expressway in the late 1960s to the G-7 economic summit in 1995 to the sewage treatment plant debacle of 2009. Already the definitive history of Halifax, this newly updated edition of Raddall's fascinating historical portrait will be an essential addition to all local historians' libraries.
One of Canada's most popular and celebrated writers, Thomas H. Raddall (1903-1994) is the author of a vast collection of fiction and nonfiction works, and a three-time winner of the Governor General's Literary Award. Some of his most beloved novels include His Majesty's Yankees (1942), The Nymph and the Lamp (1950), and The Governor's Lady (1960). Stephen Kimber is an award-winning writer, journalist, and broadcaster. He is the author of one novel and seven books of non-fiction, including the bestselling Flight 111: The Tragedy of the Swissair Crash and Sailors, Slackers and Blind Pigs: Halifax at War. A former director of the School of Journalism at the University of King's College, he now holds the Rogers Communications Chair in Journalism at King's. He lives with his wife, Jeanie, in Halifax.