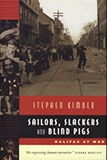 Winner, Edith Richardson Prize for Nonfiction
Winner, Dartmouth Book Award for Nonfiction
Torgi Award
Shortlisted, Atlantic Booksellers' Choice Award
In May 1945, while other Canadians celebrated the Allies' victory in Europe with parades and prayers of thanksgiving, the city of Halifax erupted in a riot — a two-day Bacchanalian orgy of boozing, looting, window-smashing, dancing in the streets, public fornicating and mindless mayhem — that not only tore the city apart but also finally ripped the lid off five years of festering frustration and anger.
This is the untold story of why Halifax's infamous VE day riots really happened: how over-crowding, privation, petty paternalism and the inevitable tensions of a city at war transformed a sleepy east coast Nova Scotia port city into a powder keg waiting for a spark. And how an admiral's pride provided the match that set it all off.
Halifax, the North American focal point for World War II's vital Battle of the Atlantic, was the only Canadian city directly caught up in the drama, danger, death and disaster of our last "good" war.
Stephen Kimber brings this extraordinary period of history to life from the point of view of the people who lived it — sailors, slackers (civilians unwilling to do their patriotic duty), street urchins, prohibitionists, spies, profiteers, reporters and just plain local folk. Drawing on extensive interviews with those who were there as well as on primary sources ranging from local government and military archives to personal diaries, Kimber's narrative recreates life in Halifax during the Second World War.
Journey back in time to witness some of the most colourful characters ever encountered in a history book and discover how a city changed a war, and a war changed a city.
Click here for reuse options!


Copyright 2009 Stephen Kimber, Website