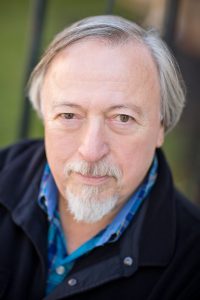 I am an accidental academic. Like many journalists of my generation, I didn't graduate from a journalism school. Or even a university. I initially began teaching a magazine writing course at the University of King's College School of Journalism in the early eighties shortly after the School opened. One course led to another, and then another. In the summer of 1982, when one of the permanent faculty got the opportunity to become the executive producer of a national radio show and needed a leave of absence in a hurry, I happily agreed to fill in for two years. He came back at the end of his leave, but I never left.
Over the years, I've taught just about every course we offer in every medium but television. I've had a ringside seat for the dramatic changes in journalism over the past two decades from the introduction of digital pagination in newspapers, to the still-evolving emergence of online journalism as a legitimate medium, to the renewed emphasis on narrative storytelling.
King's itself is a special place. Both the university (just under 1,000 students) and the School (140) are relatively small, allowing for real interaction among students and faculty and hands-on teaching. Every one on faculty is a journalist as well as a teacher, and most of us still practice the craft when we can. We operate on a workshop system and see ourselves more as editors and producers than teachers in the conventional sense.
Luckily, we've so far managed to avoid the excesses of what I see as the increasing "academization" of journalism education, the view that a PhD should be the primary and often only pre-requisite for teaching and that publishing in scholarly journals is the only kind of publishing that matters.
That's not to suggest we don't value the academic side too. Most of the first-year students in our four-year honours degree program take King's highly regarded Foundation Year, a four-credit "Great Books" program that provides them with a broad but rigorous introduction to Western thought and culture. Our faculty are equally interested in furthering their own education, whether through professional development programs like those offered at the Poynter Institute in Florida or by going back to university ourselves.
I did, in fact, finally get a degree. I graduated in 2001 with my Masters of Fine Arts in Creative Nonfiction from Goucher College in Baltimore, which offers an equally hands-on limited residency nonfiction writing program.
In 2013, I helped co-found — with Don Sedgwick, the former Publisher of Doubleday Canada and former Chair of the Transatlantic Literary Agency — a new two-year limited residency Master of Fine Arts in Creative Nonfiction degree program offered  by the School of Journalism at King's.
While I still think of myself as an accidental academic, it was a lucky accident for which I will always be grateful.
Click here for reuse options!


Copyright 2009 Stephen Kimber, Website