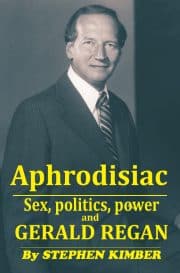 "Members of the jury, have you agreed upon your verdicts?"
The court clerk asked her rote question with a wavering, tell-me-don't-tell-me tone that seemed to capture perfectly the nervous, nerve-wracked mood among the more than three dozen men and women sitting in the Halifax Law Court's Courtroom 3-1 on the blustery afternoon of December 18, 1998. Everyone in the sterile, high-ceiling, red-bricked courtroom craned to look at the six women and four men in the jury box, trying to read the tea leaves of their faces for some sign of the outcome, waiting with a kind of desperate unease for the pregnant pause between the clerk's question and the jury forewoman's answer to finally end.
The moment only seemed to last forever.
"We have," the jury forewoman said…
***
Before there was Bill Cosby, or Jian Ghomeshi, or Bill Clinton, or Donald Trump, there was Gerald Regan, a former Nova Scotia premier and Canadian cabinet minister accused in 1995 of having sexually assaulted close to three dozen women over a span of forty years.
Aphrodisiac: Sex, Politics, Power, and Gerald Regan (originally published as "NOT GUILTY: The Trial of Gerald Regan," and now available as an ebook under its original title and with additional material) tells the shocking story of the police investigation into his behaviour with young women, the string of criminal charges filed against him and his explosive 1998 trial on the most serious charges of rape and attempted rape.
We have come a long way in our understanding of the sometimes subtle, sometimes sledgehammer differences between what happens inside the legalistic, beyond-a-reasonable-doubt confines of the courtroom and what we understand about the real world in which we live.
At some level, this book is about history. But there is a link to the present too. The Regan case marked an important public psychological turning point. For the first time in Canada, a group of women had come forward to hold a powerful man to account for his behaviour toward them.
Click here for reuse options!


Copyright 2009 Stephen Kimber, Website