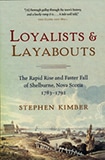 About the book
The few hundred Loyalists who gathered at Roubalet's Tavern in New York one night in 1782 shared a nightmare of the past and a dream for the future.
In the aftermath of the American Revolution, they found themselves abandoned by the king to whom they had promised their loyalty, and unwelcome in the land that had so recently been theirs. They had no choice but to flee, but they were determined to build a new and better home for themselves elsewhere.
On the rocky shores of Roseway Bay on the south coast of Nova Scotia, beside one of the best harbours in the world, they would found a new and improved New York City. It would be cosmopolitan, but more refined, more royal, more loyal and certainly more exclusive than the place they were leaving forever.
At first, all seemed to go according to the dream. Shelburne, as it was called, quickly became the fourth largest city in North America. At the time, Nova Scotia Governor John Parr grandly described it as "the most considerable, most flourishing and most expeditious [city] ever … built in so short a time…"
Within the decade, however, the Loyalists' dream city was well on its way to becoming a ghost town.
This extraordinary and yet little-told episode from our nation's past is brought to exciting life by award-winning journalist Stephen Kimber. Combining painstaking research, strict adherence to the facts, and a novelistic flair for narrative, he charts Shelburne's "rapid rise and faster fall" through the intertwined experience of an eclectic collection of its early settlers.
Meet Benjamin Marston, the acerbic surveyor who chronicled Shelburne's first tumultuous year, William Booth, the British army captain whose later journals described its decline, David George and Boston King, freed slaves who helped make — and then break — the community, steadfast Sir Guy Carleton, the loyalists' initial benefactor, and ever-vacillating Governor Parr, their eventual nemesis.
Published to mark the 225th anniversary of the arrival of the Loyalists to Shelburne, Loyalists and Layabouts is essential — and entertaining — reading on the shaping of our country.
Shortlisted for:
Dartmouth Book Award for Nonfiction
Evelyn Richardson Nonfiction Prize
Paperback Released: May 13, 2009
Click here for reuse options!


Copyright 2009 Stephen Kimber, Website