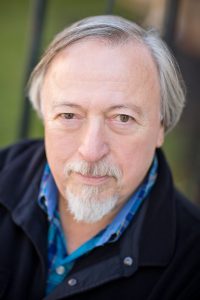 STEPHEN KIMBER, a Professor of Journalism at the University of King's College in Halifax and co-founder of the university's Master of Fine Arts in Creative Nonfiction program, is an award-winning writer, editor and broadcaster.
He is the author of two novels — The Sweetness in the Lime (Nimbus, 2020) and Reparations (Harper Collins, 2006) — and 11 non-fiction books, including:
Bitcoin Widow: Love, Betrayal and the Missing Millions with Jennifer Robertson (HarperCollins, 2022)
Alexa! Changing the Face of Canadian Politics (Goose Lane, 2021)
What Lies Across the Water: The Real Story of the Cuban Five (Fernwood, 2013)
Halifax: Warden of the North (co-author, updated edition) (Nimbus, 2010)
IWK: A Century of Caring (Nimbus, 2009)
Loyalists and Layabouts: The Rapid Rise and Faster Fall of Shelburne, NS 1783-1792 (Doubleday, 2008);
Sailors, Slackers and Blind Pigs: Halifax at War (Doubleday, September 2002);
NOT GUILTY: The Trial of Gerald Regan (Stoddart, 1999) also available as an expanded e-book under the title, Aphrodisiac: Sex, Politics, Power and Gerald Regan;
Flight 111: The Tragedy of the Swissair Crash (Doubleday, 1999/ Nimbus, 2013);
More Than Just Folks (Pottersfield, 1996); and
Net Profits (Nimbus, 1990).
His books have won numerous awards, including:
What Lies Across the Water won the 2014 Evelyn Richardson Memorial Award for Nonfiction at the East Coast Literary Awards and was long-listed for a Libris Award as Nonfiction Book of the Year for 2013 by the Canadian Booksellers' Association. The Spanish edition won the 2016 Readers' Choice Award presented by the Cuban Institute for the Book.
 Sailors, Slackers won the 2003 Dartmouth Book Award, the Evelyn Richardson Memorial Award for Nonfiction and a Torgi Award for its portrayal of Halifax dujring World War II.
Reparations was shortlisted for both the Dartmouth Fiction Award and the Arthur Ellis Crime Writers of Canada First Novel Award.
Loyalists and Layabouts was shortlisted for the Evelyn Richardson and Dartmouth Nonfiction Awards.
As a journalist Kimber has…
won more than a dozen Gold and Silver awards from the Atlantic Journalism Awards for journalism and magazine writing,
Won a Silver award for column writing from the National Magazine Awards and been a finalist in a variety of categories, including Best Overall Article, Column Writing and Religious Journalism,
won Gold, Silver and Bronze awards for magazine writing from the Trade, Association and Business Publications International organization,
won a Dan McArthur Award for excellence in radio documentary production,
won a regional ACTRA award for documentary writing,
won a Canadian Food Writers' Award for the best magazine article on the Canadian Food Industry,
a National Author's Award for Best Business Magazine article,
an Honourable Mention from the Centre for Investigative Reporting for investigative reporting.
His writing has appeared in almost all major Canadian publications including Canadian Geographic, Saltscapes, Financial Post Magazine, Maclean's, Canadian Business, Elm Street, En Route, Chatelaine, Financial Times, The Globe and Mail, the Toronto Star and the National Post. His op-ed, "The Cuban Five Were Fighting Terrorism: Why Did We Put Them in Jail" was published by the Washington Post in October 2013.
Between 1985 and 2002, he was a weekly political and general interest columnist for the Daily News in Halifax, Canada. He resumed his column again in the spring of 2004 and continued until the paper folded in 2008. He currently writes a weekly column on local and provincial politics for The Halifax Examiner. He is also a Contributing Editor to Atlantic Business Magazine.
Since 1983, he has taught journalism at the University of King's College, where he specializes in creative nonfiction writing, newspaper reporting and editing and online journalism. From 1996-2003, in 2007-08 and 2013-14, he served as Director of the School of Journalism. In 1998-99, he was concurrently a Research Fellow with the Poynter Institute for Media Studies in St. Petersburg, Florida. In 2013, he co-founded King's Master of Fine Arts in Creative Nonfiction degree program.
He holds a Master of Fine Arts in Creative Nonfiction degree from Goucher College in Baltimore, MD.
He and his wife, Jeanie Steinbock Kimber, live in Halifax. They have three grown children.