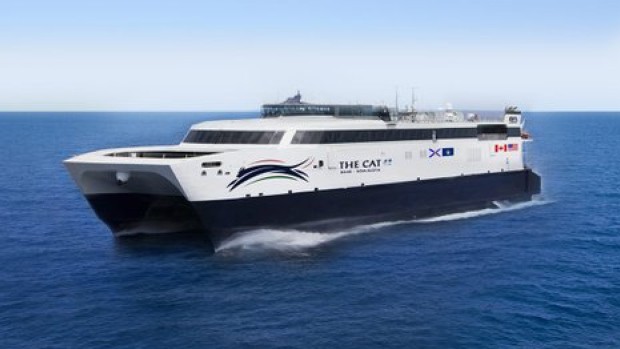 Transportation Minister Geoff MacLellan doesn't want you to jump to conclusions. If he had his way, you wouldn't know enough to jump to even the most preliminary conclusions.
Unfortunately for him, Portland, Maine, requires Bay Ferries, operator of the Yarmouth-Portland ferry service, to submit a monthly accounting showing just how many passengers the Nova-Scotia-government-funded ferry carried.
Fortunately for us, Portland makes that information available for the asking. (Memo to Minister MacLellan and the Nova Scotia government: this is what is meant by transparency and accountability.)
As a result, we now know how successful the ferry has been. So far.
The answer is not very.
Let's rewind. Last year, McLellan dumped the previous ferry operator after two dismal seasons. In 2014, the Nova Star carried just 59,000 passengers. In 2015, it carried 7,000 fewer.
So the province signed a new, sweeter-than-Stevia deal with Bay Ferries. The 10-year contract began with the province picking up the entire $9 million tab to retrofit the American-flagged and crewed vessel at an American shipyard, funding $4-million in start-up costs and paying Bay a $10.2-million first-year operating subsidy. And yes, Virginia, that is the first year's deal.
To make all that sweetness even more impossibly saccharine, the province — which is to say thee and me — is on the hook for any losses above the subsidy.
So the first passenger reports — reluctantly released in advance by Bay to give them its own spin — are distressing.
During the first week's sailing in mid-June, Bay averaged 181 passengers a day. By week three, those numbers had increased to 307.
But…
Bay's after-subsidy break-even number for this season is 60,000 passengers — an average of about 500 a day. So, with three weeks of its short season already history, the ferry will need to carry closer to 600 passengers a day everyday for the rest of the season just to reach its magic number.
They won't do it.
Meanwhile, Portland, whose state government declined to participate in financing the service, stands to make $150,000 this year from leasing port space to Bay Ferries, plus a two-dollar-per-passenger head tax for the first 60,000 ticket buyers.
Uh…
They make money, we pay it.
Yes, Mr. MacLellan, it is early to jump to conclusions.
But some conclusions seem too obvious to ignore.
Click here for reuse options!


Copyright 2016 Stephen Kimber, Website