Stephen Kimber's book, What Lies Across the Water: The Real Story of the Cuban Five, has won the 2014 Evelyn Richardson Award for Nonfiction at Canada's East Coast Literary Awards.
The Five were members of a Cuban intelligence network sent to Florida in the 1990s to infiltrate Miami exile groups plotting terrorist attacks against Cuba. Though they helped prevent a number of terrorist attacks, the Five were arrested by the FBI in 1998, tried, convicted and sentenced to lengthy prison terms. Three of the five are still in jail.
Although their case is still little known in the United States, international human rights organizations — including Amnesty International and the United Nations Working Group on Arbitrary Detention — have criticized their treatment in the U.S. justice system, and a dozen Nobel laureates have written in their support.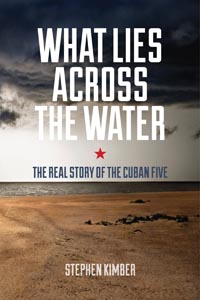 In the citation, the judges described What Lies Across the Water as "a remarkable piece of investigative journalism. Kimber has unearthed a riveting story at the heart of why there is little hope of political reconciliation between Cuba and the United States — until there is justice for the Cuban Five." The book was previously long-listed for the Libris Award as Nonfiction Book of the Year in Canada.
Accepting the award at a ceremony in Halifax, Kimber — a professor of journalism at the University of King's College and the award-winning author of nine other books — explained he had stumbled upon the story accidentally as a journalist, but is now also an advocate for their freedom.
He dedicated the award to the three members of the Five still imprisoned in the United States.