By Stephen Kimber
The Miramichi Reader, which now cheekily bills itself as "Canada's best-regarded source for the finest in new literary releases," actually began "as a lark" in 2015. James Fisher, an MRI technologist at New Brunswick's Miramichi Regional Hospital, happened to be sitting around the break table one day talking books with a few colleagues. They were all members of Goodreads, the online reader review site, and the others complimented Fisher on the reviews he'd posted there. What if…?
He called his new review site The Miramichi Reader as a dig at his local newspaper, the Miramichi Leader, which was no longer staffed locally, and also in tribute to the Malahat Review, the well-regarded Canadian literary journal.
Fisher, a native of Kingston, ON, who'd moved with his family to New Brunswick in 2008 "to simplify our lives and live in more peaceful surroundings," had once owned a Microsoft Windows support site, "so I was comfortable with starting my own blog, hosting my reviews."
His initial plan was to focus on reviewing New Brunswick titles and authors. "At first, I chose to request books that interested me since it is easier to write reviews about books that cover topics you enjoy," he explains. "I prefer nonfiction to fiction, but I really enjoy good literary fiction, the type of story you need to pay attention to get the author's message."
As TMR quickly outgrew both its original geographical and literary horizons, however, Fisher found himself "reading and reviewing about 100 books per year. I knew I needed help."
Two years ago, he reached out through his own networks — "I even enlisted the aid of the Health Services Librarian at the hospital" — as well as Twitter and Facebook, and he attracted a cadre of new reviewers and writers from across the country.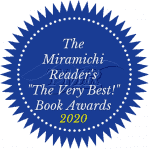 TMR now reviews books from across the country, but most still come from small presses. "Major publishers typically ignored my requests for review copies," Fisher says. "I was 'small fish' to them."
That hasn't stopped TMR from punching well above its literary weight. In 2017, Fisher launched what he called "The Very Best! Book Awards," to celebrate CanLit books TMR contributors had read and reviewed that year.
It too began as "a tongue-in-cheek poke at such high-profile awards like Canada Reads, the Booker and the Governor-General's Award. I thought: 'I'll just go ahead and make up my own awards, based on books I had read over the year.' So that's what I did."
But as the number of books and reviewers grew, the process has become more formal. "Now we have to discuss which books we want to longlist, then shortlist." Still, he adds, "it's all subjective in the end."
Although Fisher won't rule out the idea of applying for government grants to raise the publication's profile and pay honorariums to his contributors, he says TMR "is a labour of love. I think TMR is in a good place right now. I have a stable contributor base, and I feel we cover a good selection of the best in CanLit poetry and prose."
Not bad for a publication that began as a lark.