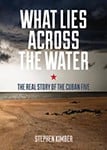 As this weekend's historic Summit of the America's wraps up —with Cuba finally at the table — here are three short, sort-of-related excerpts from What Lies Across The Water: The Real Story of the Cuban Five.
Rodriguez, the former CIA agent credited with orchestrating the murder of Che Guevera, was in Panama for the summit. His presence provoked anger among many Cubans. If you want to understand the feelings many Cubans have toward him, consider this accidental encounter between Gerardo Hernandez, the leader of the Cuban Five, and Rodriguez at a Miami shopping Centre in 1997.
In 2000, Luis Posada, the most notorious of the Cuban exile terrorists, was arrested at another summit in Panama. Thanks to Fidel Castro — and Cuban State Security!
Speaking of plots against Fidel — there were many — here's a reminder of the work the Cuban Five did in Miami in the 1990s, and their success in heading off yet another dangerous plot without endangering life themselves. (Compare and contrast with the Posada plot above.)