Kimber's Nova Scotia
September 2, 2007
And they didn't use a shredder either
Disgusted residents of MacBeath Road near Scotsburn were sifting through the rubble from an illegal dumpsite last week when they hit the motherlode. Amid the chunks of sheet rock, broken glass, food waste and toxic construction materials that had been dumped by the side of the road near a scenic brook and waterfall, the residents discovered telltale packing slips, and personal receipts linking the mess to its maker.
The residents called the Mounties who called the perpetrator. Though he or she — the cops weren't saying — was out of town, the police did say that "some people who are sympathetic to that individual" volunteered to clean up the site.
So, while he or she — or perhaps even it — faces a $337 fine, local residents think they have a right to know the miscreant's identity. Michelle Ferris told the New Glasgow News the public should know "someone is running a business who operates like that. I'd hate to think I would hire somebody who works that way."
Sorry, world
In the latest round of the cat-and-mouse battle over herbicide spraying in Nova Scotia, the cat won.
Just after 6 a.m. on Tuesday, helicopters contracted by North Nova Forest Co-op doused a 22-hectare site near Roslin in Cumberland County with Vision, a controversial herbicide that has been approved for use by the federal pest management agency.
Though some residents had vowed to serve as human shields to prevent the spraying, the planned protest fizzled when only one local was on site for the early hour swoop.
Although the contractor didn't spray in the section where local beekeeper Jerry Draheim stood — Question: If it's so safe, why did they avoid spraying him with the stuff too? — the rest of the land was Visioned.
"We got 'er all done," North Nova silviculture supervisor Bruce MacLeod declared. Except, of course, for the spot where Draheim was. "We'll probably go in and touch that up later, I'd imagine."
MacLeod said he wasn't surprised the protestors were a no-show. "Typically it turns out to be two or three people… I would have to guess they just didn't get out of bed early enough."
Local resident Dale Brown, who arrived in the middle of the action, says he's disappointed they weren't able to stop the spraying, but he thinks their protest got a message across. "More and more people are recognizing that we have to be more astute at protecting our own personal health and property," he told the newspaper. "To me, it's about morally standing up for your personal beliefs."

Oh, no, not Shelburne again… still
There has been yet another twist in the twisted, tangled, tortuous saga that is the old Shelburne Boys School property — previously known as Shelburne Place and recently re-re-christened Bowood.
Ocean Products International has filed a law suit against Halifax developer Ralston MacDonnell and Southwest Shore Development Authority CEO Frank Anderson — and all their various associated corporate connections — alleging conspiracy and breach of trust in the bidding process that resulted in MacDonnell buying the property this spring for $550,000.
OPI, which has been involved in a separate legal kerfuffle with the development agency over property at the former Canadian Forces Base Shelburne for the past seven years, alleges Bowood — which MacDonnell incorporated after the sale — got the property for "grossly below fair market or replacement value."
None of the allegations, as we say in the standard journalism biz boilerplate, has been proven in court.
Speaking of strange
The town council in Westville, which is still in the process of deciding whether it should even exist, is now trying to figure out whether members of the public should be allowed to speak during its meetings.
At its latest meeting, council reversed an earlier decision that would have required anyone who wanted to address its august self to submit their comments in advance, in writing, and in triplicate. (Actually, I made up the triplicate part; it just seemed to fit.)
Councillors were apparently concerned that unruly citizens were talking out of turn and upsetting the decorum of a body that its own CAO recently chastised for poor leadership.
"It's a reality that no citizen has any right to be heard by council," Coun. Gary MacLaughlin explained, apparently citing the book, Grassroots Democracy: Local Government in the Maritimes, as his source. It says so right here, he told his fellow councillors, adding that it's a rule so fundamental, it isn't even written down anywhere.
"The meeting is called to do the council's business," he said.
And what business would that be?
Buy local, buy often
Looking to buy local this fall but don't know how, or where, or from whom? King's County wants to help. It's set up a free Online Famers' Market website — http://www.county.kings.ns.ca/cgi-bin/classifieds/classifieds.pl — where local producers can list what they have on offer (think "pesticide-free, dried yellow eye beans, which are naturally air dried for quick cooking"?),and customers can make contact with them directly.
"We're setting up a forum," says Coun. Chris Parker, who initially came up with the idea and sold it to his council colleagues. "It's another way for people to buy local. We're contacting farmers we know and people can contact us."
Classified categories include all the usual — fruits, vegetables, cheese, dairy, poultry, pork, beef, specialty meats, fish, honey and maple products — as well as soy and organic products.
Muddying the black hole
Upper Granville residents, who had complained they encountered a "black hole" when they tried to find information about a proposed quarry in their area, may now find the situation even murkier.
Nova Scotia's Environment Department dispatched an inspector to the North Mountain area last month after sightings of sediment in the Annapolis River. The inspector fingered the source as land owned by B. Spicer Construction Ltd, the company that had applied to develop the quarry and is now in the process of developing the land for it.
"Sufficient stabilization wasn't in place to prevent sediment from entering the watercourse," the inspector, Steve Sanford, told the Annapolis County Spectator in his best officialese. "Direction was given to the proponent to remediate the site…[and] install erosion and sediment control."
Although the company's quarry application is still in process, Sandford says the department doesn't regulate preparatory land development, "so we don't have a proactive means of going to land developers [to address these areas. This incident] wasn't in contravention of an existing approval."
That will come as small comfort to opponents of the project.
Come to pee?
There's bad news and good news in the latest tourism statistics out of Barrington on the south shore. The Barrington Visitor Information Centre reports that the number of tourist visits plummeted a startling 47 per cent in the first three months of this year's tourist season compared with last year.
In 2006, 3,270 visitors stopped in
at the Centre from May to July. This year, that number was only 1,721.
The Pollyanna version of that? Warden Louise Halliday says at least 75 per cent of the visitors were actually interested in visiting the area. "In the past," she said, "some visitors… have just stopped to use the washroom or the Internet."
Perhaps the geniuses who came up with the province's "Come to Life" tourism-hawking campaign will want to rethink the moe practical aspects of visitor luring.
And then there were three… two
Digby, which is already desperately seeking at least one new physician to take the place of Dr. Roy Harding, who retired in June, got more bad news last month when Dr. Richard Denton posted a notice in the Digby Courier that he too will be closing his practice Oct. 31 for health reasons.
Barb Johnson, a spokesperson for the South West Nova Health Authority, says the decision came as a shock, and complicates an already complicated situation.
When Denton stops practicing, the community will officially be down to just three general practitioners. The reality is even more dismal. One of the three has recently gone on maternity leave. And the retired and still unreplaced Dr. Harding carried almost twice the recommended patient load.
The latest blow, Johnson concedes, is "hard news for the Digby community," where the local hospital's emergency department has also been closed for much of the summer due to lack of doctors to staff it.
They wuz robbed
His local fans knew it was all over even before the results were announced. And not just because Yarmouth favourite son and Canadian Idol finalist Dwight d'Eon blew last week's assignment to sing musical standards. (One judge gently advised the singer that crooning Paul Anka and Frank Sinatra tunes, even in cool white suit, is "not your thing.")
But the real problem, fans complained, was with the telephone system in southwestern Nova Scotia. According to the Yarmouth Vanguard, fans were encountering inordinate problems with busy signals and other telephonic gremlins when they tried to call in their votes for D'Eon.
"Grrr… my phone is about ready to fly out the window," one complained on D'Eon's Facebook site. "Four votes in almost two hours….either busy, dead line or 'this call cannot be completed as dialed.'" (There are no restrictions on the number of times you can vote for your Canadian Idol favourite.)
Meanwhile supporters of leading contender Brian Melo, a Hamilton, ON, singer, were gleefully announcing on his Facebook site that they'd had no trouble getting through — with two posters reporting they'd each been able to cast more than 750 ballots for their favourite during the two-hour voting window.
When the votes were counted, Dwight's fans fears proved founded.
D'Eon is gone. But not forgotten in Yarmouth
Stephen Kimber is the Rogers Communications Chair in Journalism at the University of King's College. His column also appears in Thursday's Daily News.

SOURCES:
ANNAPOLIS COUNTY SPECTATOR, DIGBY COURIER, KENTVILLE ADVERTISER, NEW GLASGOW NEWS, SHELBURNE COAST GUARD, SHELBURNE COUNTY TODAY, YARMOUTH VANGUARD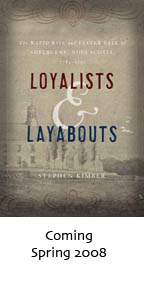 Recent News
His novel Reparations, was shortlisted for the Arthur Ellis First Novel Award
and for the 2007 Dartmouth Book Award for Fiction.
•
His profile of Det. Tom Martin for The Coast
was selected as a "Notable Narrative" by Harvard's Nieman Narrative Digest.
•
Cardiac Unrest, his Coast cover story on heart researcher Dr. Gabrielle Horne's troubles
with the Capital District Health Authority won honourable mention in the Enterprise Reporting category of the 2007 Atlantic Journalism Awards.