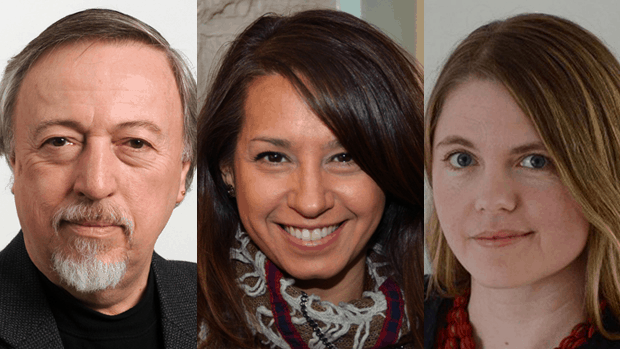 Carolyn Abraham, Stephen Kimber and Emily Urquhart will judge the 2016 Hilary Weston Writers' Trust Prize, Canada's richest literary award for a work of nonfiction.
The finalists for this year's $60,000 prize will be announced on Sept. 28, 2016.
Carolyn Abraham, a journalist and author, has twice been nominated for the Governor General's Literary Award for nonfiction. Her books include Possessing Genius and The Juggler's Children.
Stephen Kimber is the award-winning writer of What Lies Across the Water. He currently teaches journalism at the University of King's College.
Emily Urquhart's debut book, Beyond the Pale, became a bestseller and was nominated for the B.C. National Award for Canadian Nonfiction.
The winner of the 2016 Hilary Weston Prize will be announced on Nov. 2, 2016. Last year's prize winner was Rosemary Sullivan for her biography Stalin's Daughter.
SOURCE: http://www.cbc.ca/books/2016/08/carolyn-abraham-stephen-kimber-and-emily-urquhart-to-jury-2016-hilary-weston-prize.html