Kimber's Nova Scotia
October 28, 2007
Whose quality of life?
After sifting through thousands of reports and submissions from government departments, scientists, environmental groups, industry experts and ordinary citizens, the joint federal-provincial review panel's report on a massive quarry project proposed for Digby Neck was unambiguous. The federal and provincial environment ministers should reject the American proposal, the report said, because it could wreak havoc on the environment and with the quality of life in local communities.
Environmental groups, not surprisingly, were ecstatic.
"There was a lot at stake here," noted Stephen Hazell, executive director of Sierra Club of Canada. "The health and well-being and traditional livelihoods of the residents of Digby Neck… and the unacceptable prospect of turning Nova Scotia's North Mountain into America's gravel pit are just a few. This panel saw that and did the right thing, and they are to be commended."
"The people of Digby Neck have spoken and now so has the panel," added Laura Hussey, marine coordinator for the Nova Scotia chapter of the Canadian Parks and Wilderness Society.
But at least some "people of Digby Neck" don't believe the decision speaks for them, or that it will enhance the quality of their lives.
As area resident Cindy Nesbitt told the Digby Courier: "It's so disappointing that the panel has ignored the community support for this and misunderstood what it calls the core values of our community. It seems to me that core values are things like being able to have a full-time job, being able to live and raise a family with a decent wage."
The quarry would have created 34 full-time jobs.
Quarry supporters were planning a rally for yesterday. Stay tuned.

Right time to be a right whale
It was a very good week to be a right whale in Nova Scotia.
For starters, there was the Digby Neck quarry decision. Environmentalists successfully argued that fallout from the quarry project — from the impact of blasting on the whales' feeding habitat to the effect increased ship traffic could have on whale populations — posed a danger to the survival of the "critically endangered" North American right whale.
Meanwhile, a new and unrelated International Maritime Organization agreement announced this week designates Roseway Basin on the province's south shore — one of two known areas where the whales hang out in large numbers — as an ATBA.
An ATBA? In bureaucratese, it stands for an "Area to be Avoided," meaning large vessels, including cargo shops, bulk carriers, oil tankers, gas carriers, auto carriers and cruise ships are required to steer clear of the 1,780 sq km area between June 1 and Dec. 31.
Though Transport Canada officials say it will add only seven or eight minutes to the typical Halifax-to-New-York sea journey, the no-go zone could save at least some of the world's remaining 400 right whales from being killed in collisions with ships. Such collisions, it turns out, are one of the leading causes of whale mortality.
How come the whales don't know enough to get out of the way of oncoming vessels?
"When whales are engaged in social activities," explains Moira W. Brown, a senior scientist with the New England Aquarium & Canadian Whale Institute, "they are pretty oblivious to everything else that's going on around them other than the nearest whale."
Dear Rodney
More than 700 users of the Pictou-Antigonish regional libraries have already sent letters to Premier Rodney MacDonald demanding his government increase funding for the local library system.
Last week, library officials announced they can no longer afford to buy new books and will have to consider even more money-saving measures — including cutting back on hours or canceling popular programs like Books for Babies — if it doesn't get more support from the province.
"This can be an easy fix Mr. Premier," declared Ken Johnston, chair of the library's finance board, as he officially launched the library's letter-writing campaign. He urged MacDonald to "refocus your energy to provide the necessary financial assistance to the gateway of lifelong learning."
It may — or may not — be worth noting that the last non-government-report literature MacDonald is known to have read is The Life and Times of Angus L., a long out-of-print biography of Nova Scotia's popular and long-serving Liberal premier who came from the area of Cape Breton our current premier also calls home. As for the book, he "liked it."
Making history
One of Nova Scotia's last segregated school houses could soon become a registered heritage site. Which is quite an accomplishment considering that, barely a year ago, the Five Mile Plains School was in danger of falling to the wrecker's ball.
"We were at our end," Beulah States, a volunteer member of the committee that has run the building as a community hall since the school shut down in 1963, told the Hants Journal. "We couldn't even replace the oil tank and fix the roof… We were all tired out and just couldn't do it any more."
The building's first saviour came in the form of David States, an historian who had written about the school's significance. He encouraged the committee to have the hall registered as a heritage property.
The committee was keen but, since there was no deed for the property, there would be legal fees they couldn't afford.
Enter saviour number two. Local MLA Chuck Porter convinced his government colleagues to not only help foot the bill for emergency repairs on the building but also covered the costs of a lawyer to begin the heritage designation process. "If it wasn't for him, I don't know what we would have done," States said.
Given the growing interest in the history of segregated schools in Nova Scotia — Sylvia Hamilton's feature documentary The Little Black School House had its premiere at this year's Atlantic Film Festival — locals hope the building will become what States calls "a major stopping place."
Adds Roddy Johnston, a former student, the school could become as significant in its way as Windsor's hockey heritage centre. "Here you have a community with such an important history; there should be tours stopping here to learn about it," he told the Hants Journals, adding with a laugh, "I'd like to see Oprah visit."
With or without Oprah, States hopes the building will soon get its heritage designation and have its "grand opening" this spring.
When that happens, she says, "we'll jump for joy."
Hatchet job
Nova Scotia's lumber operators appear to be among the first to be sideswiped by what one industry spokesman calls a "perfect storm" — the ever-rising value of the Canadian loonie coupled with the collapse of the American housing market.
Last week, Ledwidge Lumber in Enfield laid off 27 workers indefinitely while the Irving-owned Sproule Lumber in Truro, which employs 170 people, has been shut down for the past two weeks.
And the worst isn't likely over yet. MLA Brooke Taylor (Colchester-Musquodoboit Valley), whose riding includes the most and biggest sawmills, told the Truro Daily News, "there's certainly more bad news coming down the pipe in the days and weeks ahead."
And that's in s
pite of a recent provincial government announcement that it will provide up to $35 million for the industry for silviculture and other forest-related initiatives.
Helping hands
Nova Scotia's Black Loyalist Heritage Society in Birchtown — devastated by a deliberately-set fire that destroyed part of its museum last year — got a boost recently from students and staff from the Nova Scotia Community College's nearby Shelburne campus.
It was part of a province-wide "Reach Out to Nova Scotia" campaign the college launched to better connect with local communities.
Students and staff painted, replaced damaged signs, spread sand and gravel on pathways, and trimmed branches and placed markers along some walking trails. Later, they'll help put together a pamphlet to explain the significance of the markers, as well as telling the story of what life in Nova Scotia was like for the black loyalists who came to the province after the American revolution.
The society is currently in the midst of a fund-raising campaign to rebuild a bigger, better museum.
Sign of the times
In case you missed it, last night marked the end of an era in Kingston — the last Western Kings Arena Association weekly bingo night.
For years, the arena association has depended on bingo to raise money to help operate the community rink but, as Chair Bob Lyle told the Kings County Register, "we have gone from making thousands of dollars each year to almost losing money."
Whatever the cause — and it could be anything and everything from the growth in online gaming, to the proximity of the Halifax casino, to the proliferation of lotteries — Lyle says the reality is that "it just doesn't make sense to hold them anymore."
Under the "E" for the End.
Stephen Kimber is the Rogers Communications Chair in Journalism at the University of King's College. His column also appears in Thursday's Daily News.
SOURCES: DIGBY COURIER, HANTS JOURNAL, KINGS COUNTY REGISTER, NEW GLASGOW NEWS, SHELBURNE COAST GUARD, TRURO DAILY NEWS.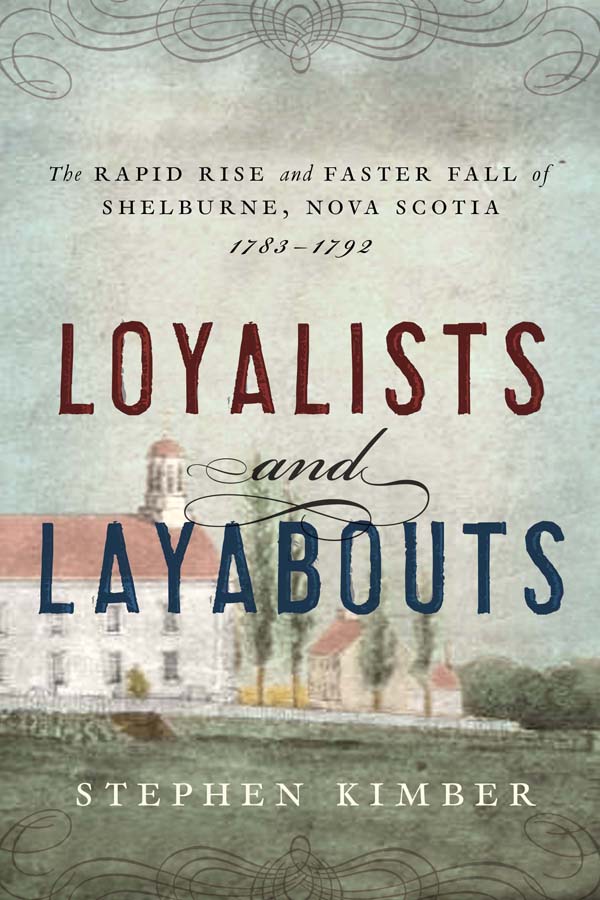 Available May 13, 2007